Soil Water Table Index well -SEA1: Fairhaven MA.
Paxton / Woodbridge Soils
USGS Topo Location Download Monitoring Well locations for viewing with Google Earth

LOCATION.--Lat 41.620279 N, Lon 70.858079 W. UTM NAD 83 Zone 19: 345203.47 Easting, 4609280.10 Northing.
Bristol County, Town of Fairhaven, MA.
WELL CHARACTERISTICS.--2 inch slotted PVC pipe installed to a depth of 4 feet below the surface. Well was monitored during the following periods: 9/94 to 7/94, 9/94 to 6/96. A total of 52 observations were made..
ELEVATION.-- Surface is 10 feet (USGS Topo - National Geodetic Vertical Datum of 1929).
SOIL TYPE.-- Exact point where well is located is mapped well drained Paxton soils but very poorly drained Scarboro soils are mapped just to the east, based on well readings the soil best fits the Woodbridge series.
GEOLOGY.-- Lodgement Till. Landform is an east-sloping toeslope of a Drumlin.
WELL OBSERVATIONS.--Below are the hydrographs of the wells.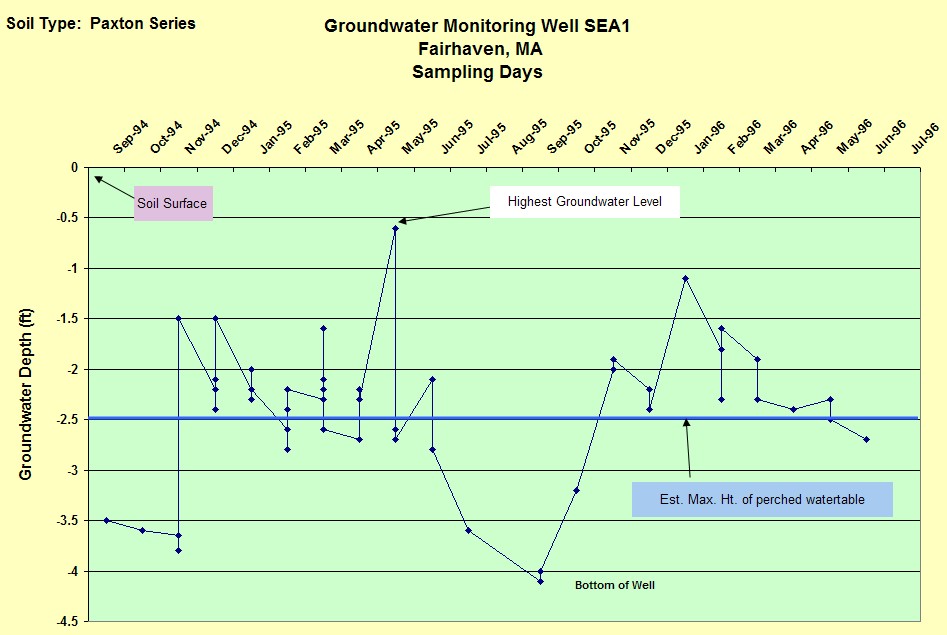 Contact Jim Turenne for more information | Return to Index Wells
Click here to view a presentation about using a device to measure maximum water table depths (Morgan and Stolt)
USGS Water Resources of Massachusetts and Rhode Island - Ground-Water Data
WRP Technical Note HY-IA-3.1 Installing Monitoring Wells/Piezometers in Wetlands