New England Soil Profiles
Eldridge Series
Download soil profile locations for viewing with Google Earth
(500 KB KMZ file, requires Google Earth to be installed).


(Link to Site)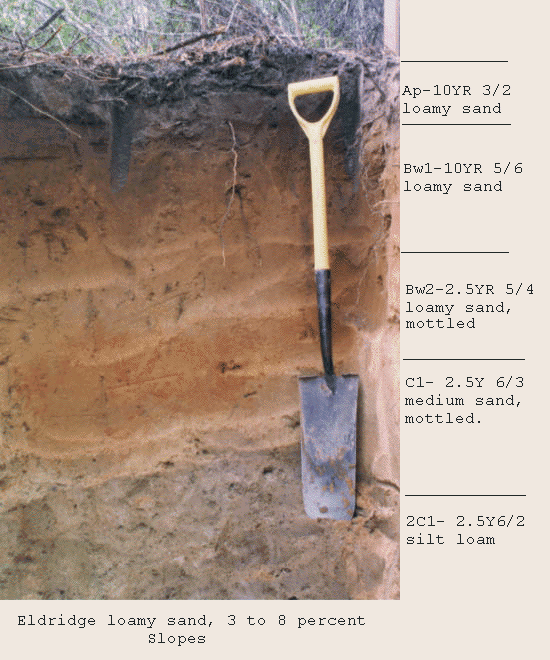 Eldridge soils are moderately well drained soils formed in sandy eolian and/or fluvial deposits underlain by silty lacustrine (lake floor) deposits. Photo by Jim Turenne, location: Martha's Vineyard Massachusetts.
Edridge Map Unit Description
Click Here for Another Eldridge Soil Profile
Eldridge Properties:
Taxonomic Classification: Sandy over loamy, mixed, nonacid, mesic, Aquic Udorthents.
Drainage Class: Moderately well drained.
Parent Material: Sandy eolian and/or fluvial deposits overlying silty lacustrine sediments.
Permeability: Rapid to moderately rapid in the solum, slow in the substratum.
Available Water Holding Capacity: Low.
Soil Reaction: strongly acid through neutral.
Depth to Bedrock: Greater than 65 inches.
Seasonal High Watertable: Depth: 1.5 to 3.5 feet below the surface. Type: Perched. Months: December to April.
Hydrologic Group: C.
Hydric Soil: No (may have hydric inclusions).
Flooding/Ponding Potential: Frequency and Type: None.
Potential Inclusions: Deerfield and Scio soils are similar inclusions. Poorly drained Enosburg, Raynham, and Wareham soils are on lower elevations and adjacent to drainageways. Well drained Hinesburg, Windsor, and Wampanucket soils are on higher elevations.