NEsoil.com Images
Glacial Fluvial Deposits
Download soil profile locations for viewing with Google Earth (500 KB KMZ file, requires Google Earth to be installed).


(Link to Site)
Material moved by glaciers and subsequently sorted and deposited by streams flowing from the melting ice. The deposits are stratified and may occur in the form of outwash plains, valley trains, deltas, kames, eskers, and kame terraces.
Click for a Fluvial Landform Map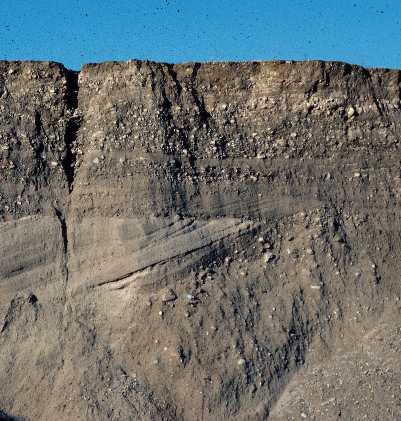 Photo by Pete Fletcher, location: town of Raynham Massachusetts, north of the Gardner St. landfill.
A photo of a glacial fluvial deposit (the topsoil and subsoil of a Hinckley soil has been removed) from a gravel pit. This photo shows the horizontal stratified layers of sand and gravel on the top of the photo called the topset beds or delta plain. The inclined or dipping layers of fine and coarse sand (visible on left part of photo) are called the foreset beds or delta slope. The foreset beds were deposited into a glacial lake, the contact of the topset and foreset beds (delta plain/delta slope) marks the former water level of the lake.
Back to Images 1 | Back to Images 2