New England Soil Profiles
Marshfield Hill Deposits
Download soil profile locations for viewing with Google Earth (500 KB KMZ file, requires Google Earth to be installed).


(Link to Site)
Click here to read more about these soils.
| | |
| --- | --- |
| Photos of the Marshfield Hills deposit showing the glacially thrusted gray clay overlain by Pleistocene deposits (sandy, ablation till). Photo to right is a close-up of the contact of the gray clay and the redder clays. Photo by Rob Tunstead, NRCS, location is from an abandonded gravel pit (south pit) east of Grove Street in the town of Marshfield, MA. (Lat: 41.1176N, Lon: 70.7053W). | |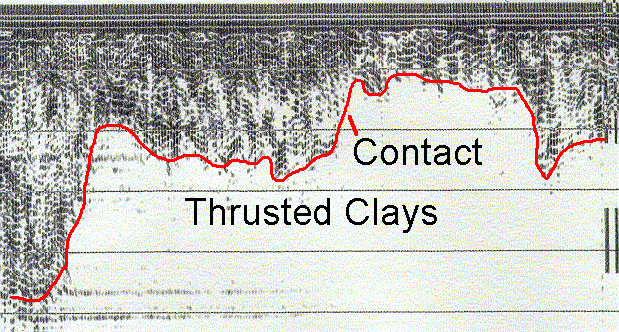 Ground-penetrating radar profile showing the variability of the depth to the contact (red line) of the clayey deposits (white zone caused by attenuation of the radar signal from the high clay content) and the overlying sandy deposits (black lines). Click here for more information on interpreting radar profiles.
Click here for a map of the Marshfield Hills.
Back to Images 1 | Back to Images 2