PLYMOUTH COUNTY, MASSACHUSETTS SOIL SURVEY UPDATE
Scio Soils: Very deep, moderately well drained soil formed in glacial lacustrine silts and very fine sand. Scio soils are on glacial lake plains, deltas, and low terraces.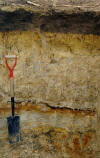 Click for Photo
Link to Official Series Description
Click here for Scio Laboratory Data S91-MA-023-009, Click Here for Pedon Description
Scio Pedon Description 2322301 | Scio Pedon Description 2322302 | Scio Pedon Description 2322304 | Scio Pedon Description 2322305
Map Unit (s): 223A, 223B
Map Phases:
223A Scio very fine sandy loam, 0 to 3 percent slopes.
223B Scio very fine sandy loam, 3 to 8 percent slopes.
Taxonomic Classification: Coarse - silty, mixed, mesic, Aquic Dystrochrepts.
Drainage Class: Moderately well drained.
Parent Material: Lacustrine silts, very fine sand and silty clay loam sediments.
Permeability: Slow to moderately slow.
Available Water Holding Capacity: Moderate to high.
Soil Reaction: Very strongly to moderately acid above 40 inches, and strongly acid to mildly alkaline below 40 inches.
Depth to Bedrock: Greater than 65 inches.
Seasonal High Watertable: Depth: 1.5 to 3.5 feet below the surface.
Type: Perched.
Months: December to April.
Hydrologic Group: B.
Hydric Soil: No (may have hydric inclusions).
Flooding/Ponding Potential: Frequency and Type: None.
Potential Inclusions: Deerfield and Eldridge soils are similar inclusions. Poorly drained Enosburg, Raynham, and Wareham soils are on lower elevations. Well drained Hinesburg, Windsor, and Wampanucket soils are on higher elevations.
Soil Suitability:
Agriculture: Well suited for most agricultural uses. Scio soils are prime farmland soils.
Woodland: Well suited for woodland.
Development: Major limitations related to seasonal high watertables and slow permeability in the silty substratum.