2018 Coastal Zone Soil Survey Planning Workshop
Savannah, Georgia. January 8-12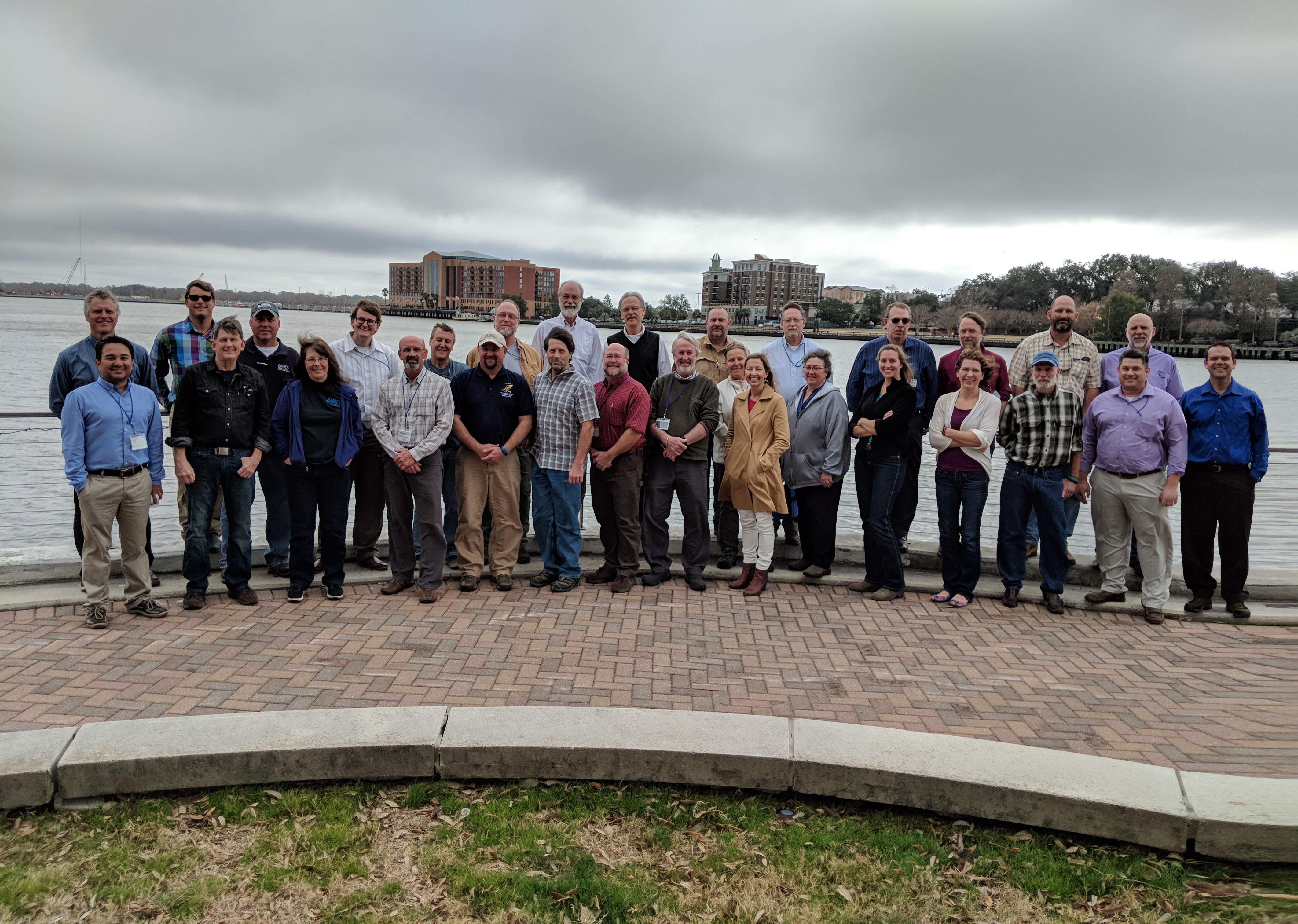 During the week of January 8 to 12, 2018 a work planning conference was held in Savannah, Georgia. The purpose of the workshop was to plan work along the eastern seaboard that focuses on coastal (dunes, marshes, beaches) and subaqueous soils. Approximately 30 people attended and provided input on coastal soil survey projects. The followin are links to the talks given during the conference. For more information visit: www.mapcoast.org
Link to Google Earth KML of Project Areas Identified
Tuesday, January 9 th , 2018
8:00 am – 8:30 am Registration / Coffee Reception
8:30 am – 8:45 am Welcome and Opening Remarks (Debbie Anderson sat in for Dave)

8:45 am – 9:00 am Work Planning Workshop – Why are we here? (Jim Turenne) - What it takes to get started and why / what are the expectations for this week / we can all agree to continue to work cooperatively in some prioritized fashion.

9:00 am – 9:30 am Introduction of Participants - All
9:30 am – 10:00 am Subaqueous Soil Survey History – Past, Current, and the Future (Dr. Martin Rabenhorst)

10:00 am – 11:00 am Coastal Zone Soil Survey (CZSS) Introduction
Jim Turenne (Rhode Isand Work)
Maggie Payne (ArcMap Story) - Link to Story Map
Rob Tunstead (data deficiencies)

11:00 am – 11:15 am Break / Informal Discussion
11:15 am – 12:30 pm Cooperators / Partnership Success Stories

Dr. Stan Hales - Barnegat Bay/NEP
Dean Carpenter (Albemarle-Pamlico National Estuary Partnership)
Dr. Mark Risse (Georgia SeaGrant)
Suzanne VanParreren (Sapelo Island National Estuarine Research Reserve)

12:30 pm – 1:30 pm Lunch
1:30 pm – 2:00 pm CZSS Topobathy / LiDAR / Base Map / Remote Sensing Tools

Collin McCormick USDA-NRCS Elevation Data Acquisition
Ashley Chappell - NOAA Ocean and Coastal Mapping

2:00 pm – 2:30 pm Subaqueous Sampling Guide / Standards and Procedures / Subaqueous Bulk
Density – What should be our standards?
Maggie Payne - NCSS Subaqueous Sampling Standards
Dr. Martin Rabenhorst and Dr. Mark Stolt - Sampling Tidal Marsh and Subaqueous Soils

2:30 pm – 3:15 pm CZSS / Subaqueous Research Needs
Jan Mackinnon - Living shorelines
Rob Tunstead - Thin layer deposition projects

3:15 pm – 3:30 pm Break / Informal Group Discussion

3:30 pm – 5:00 pm CZSS / Subaqueous Research Needs (continued)

Dr. Mark Stolt -Aquaculture
Greg Taylor - Ecological Site Descriptions
Dr. Mark Stolt and/or Maggie Payne - Coastal Blue Carbon

Wednesday, January 10 th , 2018 - Work Planning Concurrent Sessions: Split into 3 groups for each region and work on project areas. See spread sheet for summary of work plans.
Thursday, January 11th, 2018 - (Work Plan Finalize)
8:00 am – 8:15 am Daily Introduction / Summary / Discussion
8:15 am – 10:30 am Finalize Work Plan Document / CZSS Future's
(Jim, Rob, and Greg for each breakout group) Aaron Achen, will facilitate as we rank projects by region and then nationally.
10:30 am – 10:45 am Break
10:45 am – 11:15 am Jeff Danielson - USGS – CoNED – Topobathymetric Mapping & Models
11:15 am – 11:45 am Partnership Development and Opportunities
11:45 am – 12:15 pm Dr. Mark Stolt - Taxonomic Update
Rob Tunstead - Description Standards / OSD's
12:15 pm – 1:15 pm Lunch
1:15 pm – 1:30 pm J. Greg Taylor - NASIS data population guide
Minimal population standards for DMU, MU, Projects, TSS, QC / QA Standards / Checklist. SSRO Review / Approval guidelines.
1:30 pm – 2:15 pm Maggie Payne and Debbie Surabian - CZSS Interpretations and Future Research Needs
Ecological Site Descriptions, soil properties, thin-layer deposition, blue carbon, acid sulfate / sulfides, storm surge tolerances on fresh species, catastrophic loss, determine and set State, Regional and National priorities / research needs
2:15 pm – 2:45 pm Dr. Martin Rabenhorst - Acid Sulfate Soils within the Coastal Zone
2:45 pm – 3:00 pm Break
3:00 pm – 3:45 pm Debbie Anderson - Equipment and Staffing Needs
3:45 pm – 4:15 pm Debbie Anderson - Memorandums of Understanding / Agreement (MOU's / MOA's)
4:15 pm – 4:45 pm Barrett Wessel - CZSS – What is in the future, Mapping Rhode River Maryland
4:45 pm – 5:00 pm Summarize / Adjourn / Set Next WP Workshop Venue